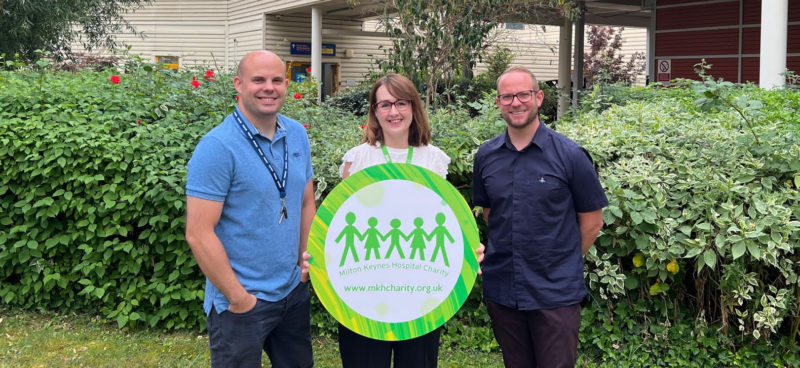 07/22 | News
Stratos teams up with Milton Keynes Hospital Charity
Since settling into our new studio in Milton Keynes, we've grown extremely fond of our new location and its people. Nestled right in the heart of Milton Keynes recently acquired 'City' status, we believe this is representative of the progression, growth and economic expansion of this opportunistic location. As an agency and team, we are committed to the local community, and look to involve ourselves in initiatives that enhance community value, support local organisations, and charitable purposes.
Since Martin Carmody joined as Managing Director, he's emphasised our commitment to the community: "We make it our business to ensure our own ethos, as a team and agency, is reflected within the way we operate whilst embracing our community." As a part of this wider initiative, we are excited to announce our blossoming relationship with Milton Keynes Hospital Charity. This partnership stems from an admiration for the work the charity does, supporting the hospital by funding special activities and projects that go above and beyond the NHS standard. And while the NHS experiences growing pressure and limited resources, this is an area we are particularly passionate about supporting. Everything Milton Keynes Hospital Charity provides and supports is over and above the NHS standard – enhancing the experience and wellbeing of patients, their families and the staff who care for them. The charity actively fundraises for projects and special appeals and in our work with the charity, we're encouraging them to take full advantage of the Stratos team whether through creative or digital assets, branding, event promotion, or campaigns.
How will Stratos be involved?
With Stratos' research-driven approach and consumer-focused strategies, there is scope for a successful partnership as we support the charity with more activities. Martin Carmody: "We're entrenched in a variety of projects and initiatives, and it's refreshing to work with Vanessa and such a progressive, forward-thinking team." Stratos plans to help with a number of fundraising events, brand awareness and marketing activities, having been involved most recently in the 'Gala Ball' event in June which was hugely successful. They are also already planning a team event and half marathon fun run later this year to raise awareness and they are encouraging their clients, team and peers to join them.
Vanessa Holmes, Associate Director at Milton Keynes Hospital Charity said:
"With so much pressure on the NHS right now, it's great to announce this charity partnership with Stratos. I know they will be supporting the charity long-term through their creative and digital teams. From our events to our website, they will be enhancing our marketing and fundraising objectives, through their advice, fundraising and sponsorship. Thank you Stratos for supporting your local hospital charity." If you'd like to learn more about Milton Keynes Hospital Charity, visit: www.mkhcharity.org.uk