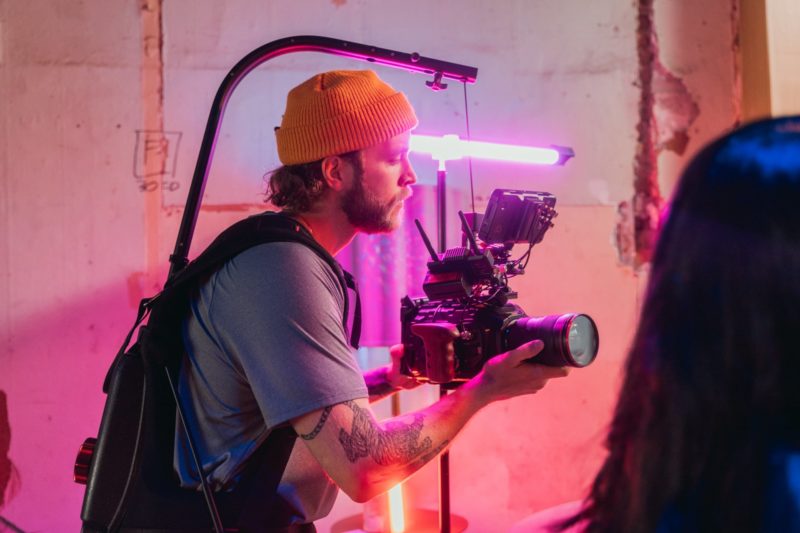 09/22 | Opinion
Why we can no longer ignore the rise of video content
For many of us traditionalists, video marketing can feel like one big learning curve we'd rather avoid.
Is it really worth it? Or can we afford to just stick with what we know?
We get it. Getting in front of a camera can feel scary. But there is way more to video content marketing than 'talking head' videos. So rest assured, there are some more dynamic ways to introduce video content into your marketing strategy.
Thanks to the proliferation of streaming platforms, consumers have a newfound appetite for video content. Mobile friendly, easy-to-consume on the go, and shareable and engaging, there are many benefits to the viewer. But for marketers, there's untapped potential in a video marketing strategy. Video marketing is incredibly effective at helping businesses generate leads, increase conversions, build brand awareness, and educate prospects about their products and services.
And as we move further into this digital decade, it's going to be harder and harder to ignore the rise of video in 2022.
Video growth in 2022
It's estimated that currently, 82% of global traffic comes from either video streaming or video downloads. Plus, the global average for video consumption is currently at 84 minutes per day. And as we might've suspected, the pandemic played a huge part in this shift towards media consumption, boosting online consumption by 215%.
For B2B companies, product videos are becoming an increasingly popular vehicle for content marketing, with 47% of global B2B companies in 2020 creating training videos. And according to Hubspot 79% of marketers plan to start using a video strategy in 2022.
83% of video marketers said it helped them generate leads, heightening brand awareness, through explainer videos, and product-related content.
With innovative smartphone technology, the rise of Gen Z online, and streaming platforms such as Youtube and Tiktok, video is becoming more accessible and dynamic. Users have the ability to edit and add product links, descriptions and captions, so it's no surprise more and more marketers are leveraging video as a lucrative source of revenue and brand awareness.
Videos are also great SEO boosters, known to drive conversions. Businesses that have added a video have seen an SEO improvement because it increases page quality as well as the time spent on a page.
Video Giants
TikTok was the most downloaded app of 2021, and currently has over one billion monthly active users. If you're an Instagram user, you'll notice that the app has been scrambling lately to keep up with big players such as TikTok and Youtube. Algorithms have shifted in favour of 'reel-style' content, and creators are given the opportunity to create a separate page filled with video content on their profile. Rumour has it, this was a reaction to the popularity of TikTok, and an attempt to stay relevant and in touch with Gen Z and younger millennials.
The shareability aspect of these platforms makes them a popular choice for businesses who want to attempt virality and reach wider audiences.
Youtube and TikTok are now considered search engines in their own right, with users asking questions and searching for answers via their search bars. If your content, product or service can solve a query, it makes perfect business sense to capture that traffic through optimised video content.
This is undoubtedly the new era for marketing and advertising. Giving businesses more control over their content: the unpolished, unfiltered behind-the-scenes, how-to videos, tutorials and explainers, products in action, or 'meet the CEO', the versatility afforded by a video marketing strategy is incomparable. Youtube even enables you to create your own channel and series, categorise your videos and monetise your content, and with 59% of executives preferring to watch videos than reading text, it could be a sensible option.
Popular social media platforms all seem to favour video and visual content, so it's no surprise more and more businesses are shifting their attention toward the rolling camera. Video content appeals to mobile users and with the proliferation of VR technology and the metaverse, it's likely that video content will continue to grow.
Predictions for the future
The value of video marketing is undeniable, with LinkedIn introducing LinkedIn video, Instagram introducing reels (and backing creators who share 'TikTok' style videos), and the explosion of TikTok and Youtube into the marketing sector. Twitter is also seeing a shift, with Tweets using video said to garner 10x more engagement.
What we must also be aware of is the demographic data. 25% of TikTok users are aged 10-19 which is the largest demographic split. This tells us that as younger generations come into the workforce, the rise in video content is likely to continue.
What does this mean for written and audio content? Don't worry, they'll still have their place. It's always important to use data-led decisions before making any firm changes to your strategy, so think about who your audiences are and where they are viewing your content.
Boosting SEO, building relationships and trust with users, and accessing new demographic pools, video content should be an enhancement of your existing strategy, not a replacement.  We could expect to see video content become more interactive and dynamic, maybe even immersive and 3D.
If video content marketing is something you're considering, we'd be happy to help you explore this route and whether this strategy is a viable option for your business. Talk to us today, or learn more about Stratos and our services here.